Benefits of online ordering system for your business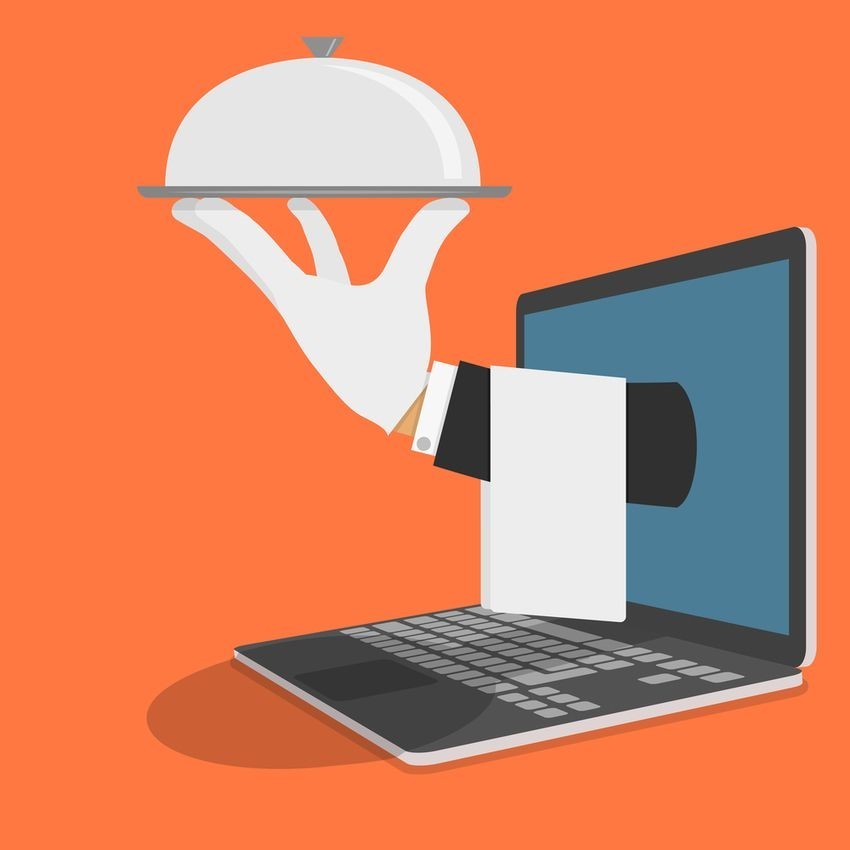 The pandemic played a crucial role in influencing consumers' meal and ordering habits. Hence, the ongoing struggle, we see fascinating statistics that show in May 2022, sales for meal delivery services grew 8 percent year-over-year, collectively. 
Customers are being driven to make their first meal delivery purchase and use online ordering software. "In May 2022, 50 percent of U.S. consumers had ever ordered from one of the services in the analysis, up from 44 percent a year ago." — as we see demonstrated on the chart prepared by Bloomberg.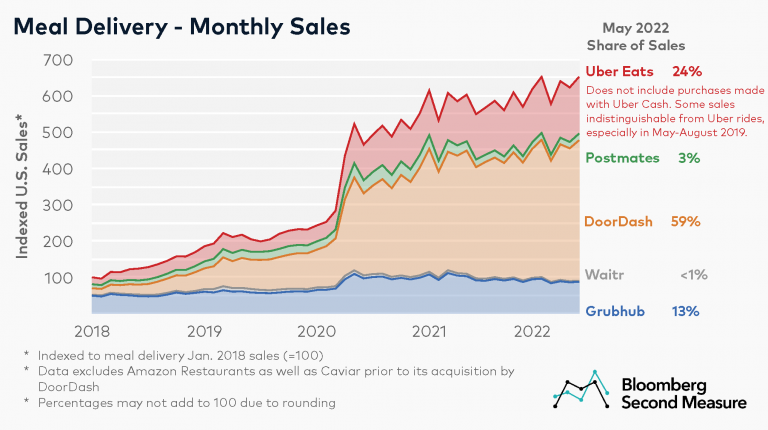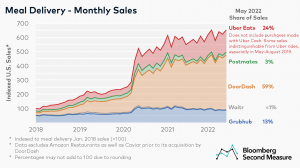 The analytical data visibly suggests the continuous pattern of multi-channel order management platforms growing in popularity.
What is an online ordering system?
The online ordering definition is the ability of the client to make an order through the web platform, website or application. When ordering online, there is an opportunity to familiarize with the menu, see a photo of the goods, as well as a description.
It is very fast and convenient in our time, allowing to increase the number of buyers. Since many of us are now living at a fast pace, often do not have time to go to the store for shopping, and online ordering is a great solution.
The main advantages of online food ordering systems are what customers can do at home. At the same time, seeing the whole order and its total amount in the buyer's basket. Choosing delivery, you can do your business while the goods are delivered to you.
All you need to do is to log in to the web-based ordering system and process it, in more detail in the article below. 
How online ordering platforms work?
An online ordering platform is a software empowering businesses to receive and manage orders placed via different channels. It can be pinned down as an easy and agreeable way for customers to purchase goods online. 
The platform can be very complex and multifunctional, affiliated with POS system and CRM order management to help you keep track of customer orders and bring customer service to a whole new level.
If your establishment specializes in fast service and you need to make more orders per day, use the fast food pos system. It's certainly will be useful for your business.
But the main function is simply to make sure your customer has the opportunity to open an e-menu or your product's catalog and place an order. 
The software can vary depending on your business demands, with ORTY you can for sure get listed below features which you can customize and adapt to meet the most demanding requirements:
Provide customized order forms
Adjusting the online ordering form depends on your needs and the needs of your clients, this is essential to any business process.
Consider it a high priority to build a clear picture of the business flow in your establishment, how the customers would interact with your customized form, whether it's fast, simple, and efficient enough.
Here are some primary points you should consider when adjusting the form:
Ensure the process is simple and understood by all.

Integrate as many payment systems as possible.

Add the personalized settings, like greetings with the name, birthday sales and, congratulations on such occasions.

Ensure the effectiveness of the form by analyzing the client data and feedback. 

Allow your customers to make orders in a few clicks. 
Place an order from any device
Purchase order system for small business or a huge enterprise and obtain the ability to receive orders from any device types (PC, phone, tablet, laptop) powered by any operational systems (Android, iOS, Microsoft, macOS).
Most online orders, about 60%, are made on smartphones. For that reason, it's important to ensure your restaurant's website and online ordering system are optimized for small screens as well. 
Having accessibility from multiple devices will exponentially increase the customer flow.
Speed up the online ordering process
One of the fundamental features in today's fast-paced business is the speed of service you are capable of providing to the consumers. 
The average delivery window for food is around 30 minutes, but "27% of people say they would be willing to pay extra for their food to arrive faster."
Let's explore the actions you can take to boost the speed and get more customers:
Optimize your order form so the client would be able to place an order by clicking two or three buttons. Make the form as simple as possible, so your targeted audience wouldn't get confused by the whole process. 

Getting automatically created orders from various channels. Putting ads online on platforms and websites, you expect your customers to use them all. Automate the process, get more online platforms and receive

fewer

orders that need manual processing. Use additional options like "duplicating" to save even more time.

Get your team on one page. Improve the collaboration within the establishment and within the whole network by using an all-in-one software solution. Educate and teach the staff to use the

restaurant order-taking system

to the fullest. 
How to set up an online ordering system?
Setting up the online platform can be a very difficult and labor-intensive process unless you are using the all-in-one app through which you can not only build a platform but customize the ordering with a built-in e-menu, CRM, POS, and Analytics blocks.
We can divide the whole process into several significant steps:
Launch the e-menu.

That means you need to upload the products you are selling and present them in the best way possible. Do not forget about pictures and tags, that would substantially help your client to make a choice.

Develop the workflow and launch the web form.

As it was previously noted in the article, the creation of the web form needs a previous brainstorming on how the whole process is going to work for your audience. 

Deal with financial setup.

Make sure you have added all the popular payment systems, so you can easily receive payments in the most favorable format for the client. Also, keep in mind the ability to integrate the POS system and collect all the financial data in real-time. 

Advance accessibility.

Adjust the settings for different types of devices and screens, so all of your users can enjoy great quality screen resolution.

Customize

. Be innovative, adjust different systems like CRM and Analytics to help. Do not forget about your customer's comfort and needs, collect the feedback, and improve to become number one.
To conclude, the digital ordering system is not something you can overlook, today it's a must for all, starting from a small coffee shop on the corner to the enormous enterprises, like Starbucks.

According to the Starbucks Q3 2020 report, the number of orders placed via the app makes up nearly a quarter of all sales at Starbucks locations in the USA.
The numbers are speaking for themselves, a tendency in 2022 seems to be only climbing up, so beware and get prepared for the future.
Kaitlin Keefer
Kaitlin is an editor at Square where she covers everything from how small businesses can start, run, and grow, to how enterprise companies can use tools and data to become industry leaders.