What do you need to start a food truck business?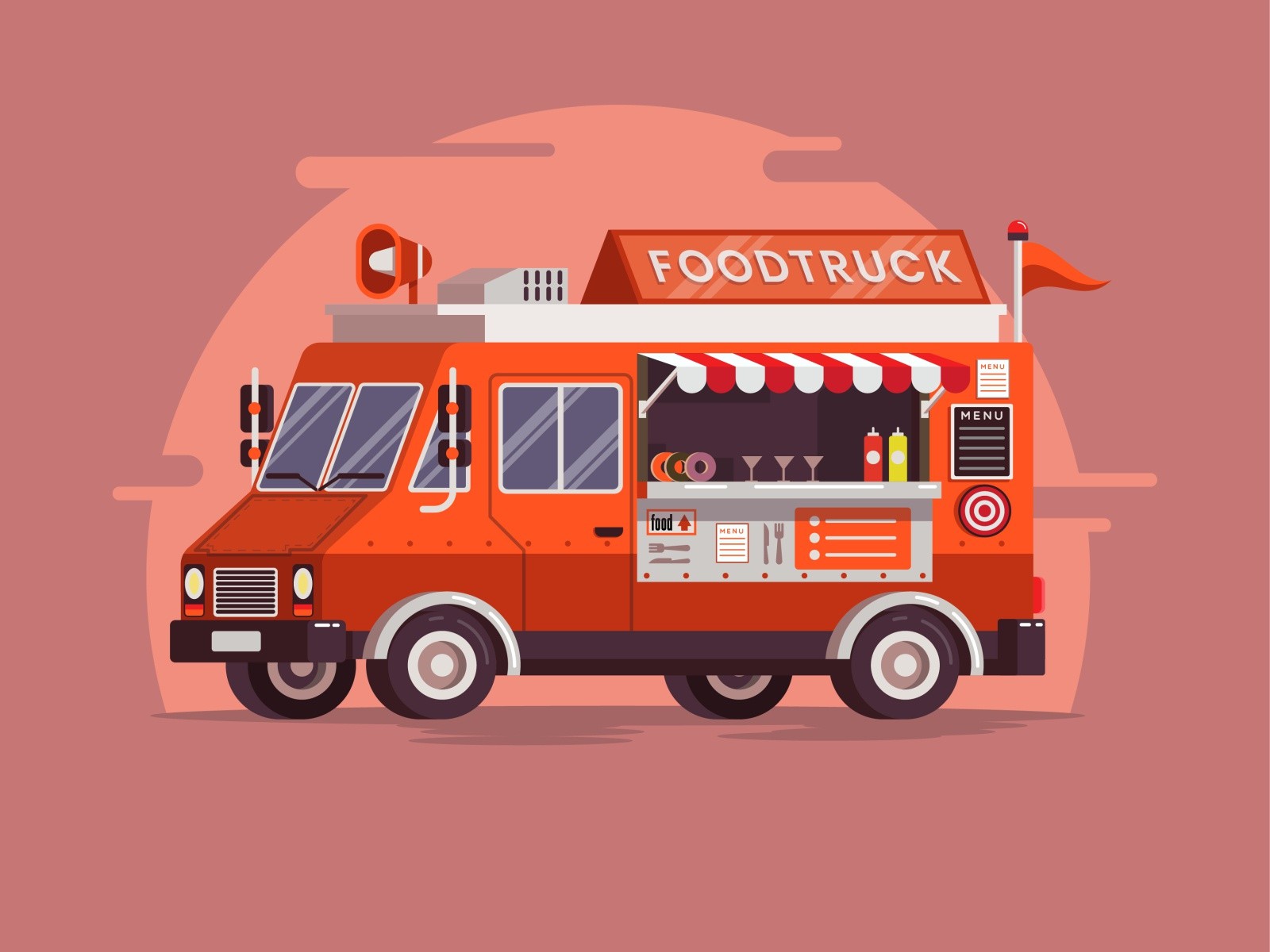 Mobility, quick launching to market, and openness are the three key benefits which a business on wheels may provide today under the conditions of a pandemic. This trend of street food sales is gaining popularity in countries throughout the world, especially in the East European region.
Why are the owners of restaurants and coffee shops little by little starting to abandon set locations and get off to "follow" their customers? Let's take a look at how to start up a food truck business realization from scratch step by step and what features should be taken into account in this line of work.
Food trucks start-up cost
When you say "I want to open a food truck", keep in mind that most of the start-up capital will be spent on buying mode of transportation, it is important to choose the right type of vehicle which is going to suit your business model the best. The cost of a kitchen on wheels will differ significantly depending on the type of mobile food service. So, how much does a food truck cost and which plan B options are there:
The most budgetary is the

trailer

, prices are very flexible, you can find a suitable option starting from $3,000 and above.

As the middle option, you may consider

a utility vehicle transformed into a street retail point

. The cost of a secondary car will average $11,000 while new wheels may cost about $17,000. Restaurateurs tend to think that the best vehicle for food truck is newer and more practical. Such cars as Renault Dokker, Ford Tourneo Courier, Renault Kangoo, Fiat Doblo, Opel Combo, Peugeot Rifter.

Purchasing

a secondary food truck or custom-made food van

(on almost any chassis): in different configurations, for any purpose, and with a unique decorative design. Prices for a pre-owned truck start from $8,000 and above. At the same time, when buying a used truck, you may have to make equipment modifications: heaters, air conditioners, autonomous water supply, onboard input, water heaters, thermal insulation, chest freezer, refrigerators, and so on.
For many novice restaurateurs on wheels, the price of a professional van is simply unaffordable, so some owners offer a rental option that will be a small fraction of the cost.
Renting a food truck or buying — what to choose?
There are not a lot of offered options for renting transportation, mainly the owners of a kitchen on wheels propose a hire, which they cannot sell due to the high cost. The reluctance to lease a truck is also due to the high cost of equipment, but this variant is certainly possible, and it will cost you on average about $1,000 per month. Also, when registering, you need to take into account the document's pricing, which will be $250-300.
It can be a good option at the initial stage when it is hard to immediately invest a large sum in the purchase of a vehicle.
What licenses are needed to start a food truck
To operate a vehicle coffee shop or food truck, you should:
Take part in the government-organized auction to rent a space for your outlet.

Conclude an agreement with the city Utility company.

Conclude a deal for share participation in the object maintenance.

Have a registered sanitary journal and worker's health permits.

A package of required documents for products and goods.
Equipment for a food truck
Before starting a food trailer business you need to prepare the list of equipment, that you will need. The kitchen equipment for food trucks and the cost will directly depend on products and goods you are planning to sell. If you wish to have the professional equipment installed without making mistakes, there are companies which offer their assistance in this procedure, they can take care of:
Drafting a re-equipment project (if you have a used truck) or equipping a new truck from scratch, preparing drawings and diagrams with a description of the project.

Keep in mind, it is also important to comply with obligatory fire and safety codes which you should consider when placing the equipment.

Branding, car wrapping, developing a design to put advertisements both inside and outside.

Placing an order of cooking equipment as required by your needs.

Installing restaurant point-of-sale system. Today you may find various food truck POS systems, like Square, Toast, Revel, Harbortouch, Rezku, Clover, and

this article

offers comparison on the best ones. POS system for food trucks is one of the most important points at the opening of any institution. It allows you to control the work of the point and staff.
For example, such companies as MobiFood estimate on average the cost of equipping a low-cost kitchen on wheels starting from $7,000 (fast food cooking solutions: hot dogs, sandwiches, kebabs, and so on). The cost of re-equipping a restaurant-type truck begins at $12,000.
Truck restaurant operational costs
When making the budget estimate required to start and conduct retail on wheels, we can distinguish two categories:
1.Kickoff financial investments:
Buying a mobile point of sale (trailer, van, truck) will cost on average $

12,000

.

Re-equipment (design, materials, and work) starts at $

7,000

.

Kitchen equipment will cost (depending on your menu assortment) not less than $

8,000

.

Paperwork will be at least $

1,000

.
2.Monthly food truck maintenance costs:
Rent (depends entirely on the choice of location)

—

negotiable.

For example, by taking a location in a residential area, not in the center, we will get a rent of about

$

600

.

Taxes

—

$

500

.

Transportation costs

—

$

800

.

Purchase of ingredients

—

depends on the volume of sales. For example, let's take a coffee shop, which makes pastries. The average purchase amount will be about $

1000

.

Salary

—

having a team of people will cost you $

1200

on average.
Pros and Cons of opening a food truck
Summing up what does it take to run a food truck, you can estimate the level of financial investment at the initial stage and calculate the monthly costs. The ROI of your food truck business will depend entirely on:
– The number of clients served per day, which in turn is determined by a successful location.
– The level of your pricing policy.
– A successful marketing company.
There are many more business factors that also affect the sales level, but the main advantages of retail on wheels are definitely:
Mobility —

there is a possibility of changing the location.

Low start-up cost

. Opening a restaurant or cafe from square one will require large financial investments, and in that case, the documents processing and obtaining the necessary licenses are going to be much more complicated.

Time

. It can take only two months from the moment of project development to the moment of opening the first outlet.

Return on investment

. For owners it is crucial, how profitable is a food truck? Well, due to smaller financial investments at the initial stage, it is logical that such a business will pay off faster.
There also exist several disadvantages:
Rent

. Although we consider mobility as an advantage, without renting the area for the truck's placement, it is illegal. The owners of the mobile retail outlets have to take part in the government auctions, where they can acquire leasing rights, but price volatility, high competition, and the limited amount of space are the primary concerns of the mobile kitchen owners.

"Checkings"

. Let's be frank, unfortunately, even with documents and permits, truck owners, especially newcomers, are often faced with local police officers, patrol brigades, and unscheduled inspections,

that having no reason for doing so, are going to very carefully check the legality of your undertaking, thereby scaring off customers.

Production of precooked food

. If your business model involves the production of precooked food in certain volumes, in that case, you will probably need to rent additional space. In this case getting supplies for the food truck becomes a little bit more complicated. 

Bureaucracy in getting permits or licenses

. For sure, there is no sphere where you will not face bureaucracy, but in the restaurant business, we deal with food and time-sensitive products. In this case, sanitary and food standards are stricter.
For many countries, the niche of street foods business is still new, and its development continues during the period of quarantine, isolation, and the search for security. Customers become more and more interested in mobile restaurants with contactless payment and an open cooking process — through a glass partition, which they can observe.
Kaitlin Keefer
Kaitlin is an editor at Square where she covers everything from how small businesses can start, run, and grow, to how enterprise companies can use tools and data to become industry leaders.