How to Start an Ice Cream Truck?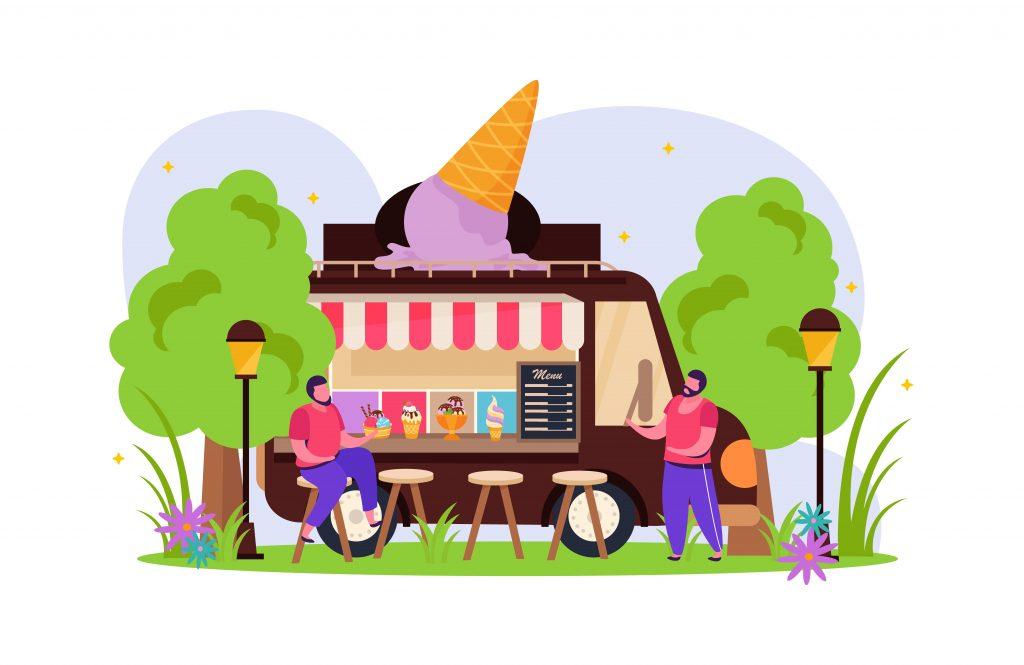 Launching an ice cream truck business is a tempting idea. It is a fantastic option for aspiring entrepreneurs who want to try their hand in the food service industry. It requires little start-up capital, allows for quite a bit of leeway, and is highly scalable. You are not tied to a specific location and can adjust your working hours depending on demand. If you've been dreaming about owning an ice cream truck since childhood, here's what you should know about this area.
Ice Cream Truck Business Plan
Any activity should begin with thorough planning. Operating an ice cream truck will not bring you the proper income without assessing the target audience, competitors, the most lucrative working hours, and other stuff. As part of your business strategy, you should consider start-up costs, marketing, various permits and licenses, and more. All this information is necessary not only for you for proper budgeting but also for banks if you are looking for investments from their side. You can make preliminary calculations in the software, allowing you to calculate preliminary sales, as well as to make plans for a month, quarter and year. Using a POS system for Android you can pre-understand how your business will develop.
Cost of an ice cream truck
Most of your starting capital is taken by getting a vehicle itself. How much does an ice cream truck cost? The minimum price usually starts around $10000 and can go up to twice as much if looking at more advanced models. Fortunately, you will only have to pay this amount once. The cost varies by vehicle size and whether you purchase a used product or a new one from the showroom. In the absence of such a sum, you can lease an ice cream truck.
It is imperative that you insure your vehicle against unforeseen circumstances. On average, you will have to spend about $1000 annually. Other recurring expenses also include gasoline, which depends on the distances you drive, as well as van maintenance.
Now you need to fill your car with the right equipment. The complete list depends on what products and dishes you serve to clients. You may require freezers, fudge warmers, blenders, coffee machines, beverage coolers, ice makers, and so on. The wider your range, the more equipment should be included in your business plan for an ice cream truck. You also need a portable generator, from which all devices work.
Of course, a separate item of expenditure is ice cream. But you also may need various toppings, fudges, cones, bowls, spoons, napkins, and other ice cream truck inventory. Experts recommend taking the starting amount of ice cream for no more than $500 and buying more flavors as needed. Inventory management system software will help you monitor stocks and the need to replenish them.
Ice cream truck marketing
Attracting clients is impossible without quality marketing. Now social media is the most affordable and popular way to promote any business. Instead of building a complex site, you can make a company page in any social network or group in instant messengers and advertise the products offered. A quality ice cream POS provides you with a wide range of customer activity tracking, target audience segmentation, and promotions and discounts offering. You can also create a branded Google account to post photos of your truck in the system and respond to user reviews.
At the same time, do not avoid "classic" marketing moves like handing out leaflets, ads on billboards and in newspapers, and local signboards. Catching truck design helps to attract new customers. Cheerful music playing from your vehicle also plays an essential role in it.
Ice cream truck license and permits
Local laws govern the activities of any business, so the complete list of ice cream truck permits depends on which country and region you are located in. However, the following documents are usually required from you:
Valid driver's license. Since the food van is a vehicle, you should have a permit to drive it.
Business registration.
Health permit. Because you work with food, you need to meet certain health requirements.
Resale permit.
Peddler's permit to offer food on the street.
Registration with the tax office.
Keep in mind that if your route passes through several cities or regions, you should check and get the required licenses for each. Also, remember that some of these permissions need to be updated periodically.
How to Run an Ice Cream Truck Business?
The food industry, in general, and the ice cream truck businesses, in particular, have experienced some decline since the start of the pandemic. However, now, as restrictions are gradually lifted, experts predict a recovery in demand by 2025. So investing in this industry and arranging a franchise ice cream truck is promising. After drawing up a business plan, purchasing tools, and getting all the necessary licenses, plan your route and get to work.
The key to a prosperous business is demand orientation and customer satisfaction. ORTY helps entrepreneurs analyze their target audience to determine the most in-demand products. Thanks to this advanced system, you can monitor your inventory and replenish it as needed without spending money on expired items. Since food trucks are very mobile, you can arrange home delivery and expand your company by purchasing additional vans and setting up an entire network.
How Much Does an Ice Cream Truck Make?
Are ice cream trucks profitable? The short answer is yes. On average, the markup for one portion of ice cream can be about 50%. Sales are directly affected by weather, location, holidays, marketing, and more. For your success, it is vital to track all the big events that happen nearby and plan your route with these events in mind. To attract more buyers, provide a wide range of ice cream, not only sweet but also savory and vegetarian, as well as related products such as coffee and beverages. Your ice cream van business profit could be $1000+ on a sunny summer day if you think things through correctly.
Kaitlin Keefer
Kaitlin is an editor at Square where she covers everything from how small businesses can start, run, and grow, to how enterprise companies can use tools and data to become industry leaders.